The Legend of Heroes: Trails of Cold Steel
Comments

2
The Legend of Heroes: Trails of Cold Steel
英雄伝説 閃の軌跡
Eiyuu Densetsu: Sen no Kiseki
Developer(s)
Nihon Falcom Corporation
Publisher(s)
Nihon Falcom Corporation
XSEED Games (U.S)
NIS America (EU)
Release
September 26, 2013 (JP)
June 24, 2014 (CN, KR)
December 22, 2015 (U.S)
January 29, 2016 (EU)
Genre
Story RPG
Modes
Single-player
Ratings
CERO-B (JP)
ESRB-T (U.S)
PEGI-12 (EU)
Platform(s)
Sony Playstation 3, Playstation Vita
Chronology
Previous
Next
External Links
Official Website (Japanese)
Official Page (English)
"

零(ゼロ)から閃(セン)へ――

"
"

From Zero to Flash

"
—Title slogan
The Legend of Heroes: Trails of Cold Steel (英雄伝説 閃の軌跡, Eiyuu Densest Sen no Kiseki?) is a new chapter in the Kiseki series that takes place in Erebonia, concurrently with the events of The Legend of Heroes: Zero no Kiseki and Ao no Kiseki. It was released on September 26, 2013 for the Playstation 3 and Playstation Vita in Japan.
Cold Steel takes place in the Erebonian Empire, a military superpower located on the continent of Zemuria. The player will spend a significant amount of time as a student at Thors Military Academy, the nation's premier service academy. As part of a special curriculum, the player will also be deployed to various locations across the Empire to conduct Field Studies.
The story centers around growing tensions between two powers in Erebonian Empire in the S1200s. One is the Noble Alliance, which centralises around the Four Great Nobles, about maintaining tradition to the areas ruled by aristocracy. Another is the Reformist Faction, which consists of the commoners with Giliath Osborne, the Iron Chancellor as their leader, which opposes the Noble Faction's ideology.
Meanwhile, a new term begins at Thors Military Academy in Septian Calendar, March 31, 1204. Located in a small town called Trista near the Imperial capital, . One of them is Rean Schwarzer, a seventeen year-old boy from a northern small region named Ymir, who happens to notice one thing when he just arrives in Trista. He wears a crimson uniform while most students wear either green (for commoners) or white uniforms (for aristocrats). Then he encounters eight students wearing the same uniform like his during his walk to the orientation.
After the orientation speech by the headmaster ends, a young female instructor, Sarah Valestine, calls the crimson students to do a special orienteering program. She explains that the all crimson uniformed students are placed in the special class called Class VII, and they will be given special assignments which differs them with the other students in different classes. Since joining Class VII, Rean and his friends have been facing many kinds of circumstances to be solved, from the personal things they must overcome to the threats that will endanger the people and the entire Empire.
CharactersEdit
Main CharactersEdit
Rean Schwarzer: The adopted son of Baron Teo Schwarzer, Rean attends Thors . He is a level-headed, albeit reserved individual, who has trained under the legendary martial master Yun Kafai and learned the Eight-Leaves One-Blade style of swordsmanship.
Alisa Reinford: Daughter of chairwoman Irina Reinford of the Reinford Group, Alisa attends the academy as a way of distancing herself from her relationship with her mother. She is strong-willed and sometimes quick to react, but she is very caring underneath her rough exterior.
Laura S. Arseid: Daughter to viscount Victor S. Arseid, Laura has a dignified, somewhat restrained personality. She is revered by many for her strength and skill with the great sword, something she has inherited through use of the renowned Arseid Style.
Gaius Worzel: Gaius is an exchange student from the Nord Highlands. He is mild-mannered and polite, making fast friends with most he meets. He ventures outside the confines of his homeland to become more acquainted with a world that is rapidly evolving around him.
Millium Orion: An energetic, mysterious young girl who totes around a semi-sentient mechanical companion named Airgetlam (or Lammy for short). She is rarely discouraged from anything she sets herself to, and can be quite the handful for her friends or anyone she meets.
Sub CharactersEdit
Sarah Valestine: Class VII's home room instructor, she is the youngest person to have ever achieved A-rank as a Bracer (though you might not guess it from her personality). She is both nonchalant and determinate, and knows how to say the right things at the right time.
Neithardt: A major in the 4th Division of the Imperial Army, and also an instructor in the military academy specialized in military science.
Giliath Osbourne:Imperial Chancellor, this man has earned a name for himself - 'Blood and Iron'. He is a ruthless and intimidating negotiator.
Towa Herschel: A second year student at Thors Military Academy, she is president of the student council. Often overworked, she still retains a bright smile and cheery attitude.
Angelica Rogner: Towa's best friend who is also a daughter of Marquis Rogner, one of the 'Four Great Noble Families'.
Elise Schwarzer: The biological daughter of Baron Schwarzer, she attends St. Astraia Girls' School in Heimdallr as Alfin's companion. She is shy around her brother, Rean.
Alfin Reise Arnor: Imperial Princess and darling, Alfin is an elfish, witty young girl who delights in teasing her friends and family.
Victor S. Arseid: Laura's father, he is considered one of the best swordsmen in Erebonia, and is known as the 'Radiant Blademaster'.
Olivert Reise Arnor: The eldest prince of Erebonia, Olivert has a penchant for singing, drinking, flirting, and just general mischief.
Development
Edit
Sometime later after the game's release, Falcom and Sony Computer Entertainment Japan Asia (SCEJA) have made an agreement to release Sen no Kiseki in both Chinese and Korean language for the Playstation 3 and Playstation Vita, and planned to be released on June 24, 2014. XSEED Games confirmed that The Legend of Heroes: Trails of Cold Steel is being released in North America physically and digitally on December 22nd, 2015.
Achievements
Edit
Playstation Award 2013, User's Choice - Winning Award
Japan Game Awards 2013 - 1st Place
Famitsu Award 2013 - Winning Award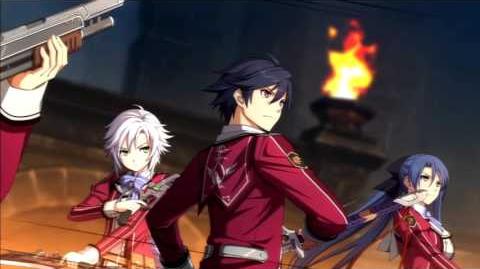 ReferencesEdit