The Legend of Heroes Series (

英雄伝説シリーズ

Eiyuu Densest Shiriizu

?

) is an RPG series developed by the Nihon Falcom Corporation. Stemmed from the Dragon Slayer saga in 1989, the franchise followed it own series with subsequent "Gagharv Trilogy" saga. After reaching its conclusion, a new story called the Kiseki series made its exclusive ongoing popularity in a new land called Zemuria with the well-known Sora no Kiseki trilogy. Its sequel continued following different backgrounds in other territories, namely the Zero/Ao no Kiseki and Sen no Kiseki duologies.
The Legend of Heroes Series
(08/02/2016The official website for Trails of Cold Steel II is up.
(03/11/2016) XSEED Games has announced The Legend of Heroes: Trails of Cold Steel II to be released in the states this coming fall.
(03/10/2016) XSEED Games has announced a possible upcoming teaser of the official US localisation of The_Legend_of_Heroes:_Sora_no_Kiseki_The_3rd.
(12/16/2015) The Legend of Heroes: Trails of Cold Steel III has just been announced!!!
(12/2/2015) The Legend of Heroes: Trails in the Sky and SC are on sale at Good Old Games during their Big Winter Sale launch.
(11/28/2015) I want to give a very special thanks to admin Whiteknight810210 for his hard work contributing to this Wiki. Keep up the great work! - TheUnseelieCourt
(11/10/2015) Falcom and Kadokawa games have announced The Legend of Heroes: Trails in the Sky the 3rd Evolution.
To write a new article, just enter the article title in the box below.
Not sure where to start?
Find out more about the wiki on the About page.
If you are new to wikis, check out the Manual of Style.
Adding content
Every wiki has two list of articles that need help called "Stubs" and "Wanted Articles". Don't be shy, get in there.
Uploading images is another really easy way to help out - see the Special:Upload page!
You can find a list of useful templates on Category:Templates.
When adding content, please do not copy someone else's work. Write the subject in your own words and if you have to, give credit where it is due.
Request for Translation!!
Not every game title has been localized in North America, so there may be some errors in regards of translating certain names, titles, events, histories, stories, etc. This may include anything from alternate names (i.e. Angie = Pillars, Thirteen Workshops = Thirteen Factories) of Japanese versions to spelling or grammatical errors.
In regards to the alternate names, we have provided 'redirect' links and descriptions in the article to include both English and Japanese versions of that name.
Anybody is free to submit a translator request and fix any possible errors present to maintain as a high quality reference to the Legend of Heroes series. If you have any questions, please contact me.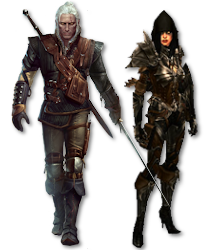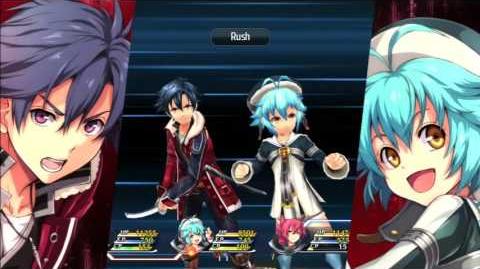 There was a chronological error when America released the Gagharv Trilogy saga from their original Japanese order.
Those like Cassius Bright, and Arios Maclaine who train under the Hachi-Ittou style are multitasking people within army organizations.
Within ancient Erebonian history, there are seven Knightlords (騎神) that lay dormant throughout territories unknown.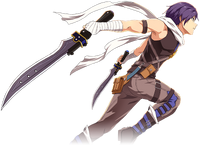 Joshua Bright, an A-Rank Official Bracer up to point according to the Kiseki timeline, and adopted son of Liberl's legendary hero, Cassius Bright.
Crossbell City is a large city located on the western edge of the continent, lying in the heart of Crossbell State. It was once the battleground for a conflict between the neighboring countries but has since become a thriving city with a financial district, entertainment facilities and residential areas. The city lies in the heart of Crossbell State. It is where the majority of Zero no Kiseki takes place.
The city features what is known as the Orbal Network Project, an innovative data network developed by the Epstein Foundation. By connecting computer terminals via Orbal cable, it is possible for vast quantities of information to be exchanged. Originally Liberl's Zeiss Central Factory was going to cooperate in developing the network, however with a funding offer funding from the IBC, a full field trial has begun in Crossbell City. (more...)
Have you pre-ordered your copy of Trails of Cold Steel II?
If you want to affiliate with the Legend of Heroes Wiki, please contact an admin.