The Legend of Heroes Series (

英雄伝説シリーズ

Eiyuu Densetsu Shiriizu

?

) is an RPG franchise developed by the Nihon Falcom Corporation. Beginning with the Dragon Slayer saga, released in 1989, the franchise was soon expanded with the Gagharv Trilogy of games set in a separate continuity.

Afterward a new subseries, Trails, gained popularity with the Trails in the Sky trilogy, based in the land of Zemuria. Its sequels continued an integrated storyline involving diverse characters, countries, atmospheres, and experiences, all of which serve as the basis of the modern Legend of Heroes universe.
The Legend of Heroes Series
To write a new article, just enter the article title in the box below.
Not sure where to start?
Find out more about the wiki on the About page.
If you are new to wikis, check out the Manual of Style.
Adding content
Every wiki has two list of articles that need help called "Stubs" and "Wanted Articles". Don't be shy, get in there.
Uploading images is another really easy way to help out - see the Special:Upload page!
You can find a list of useful templates on Category:Templates.
When adding content, please do not copy someone else's work. Write the subject in your own words and if you have to, give credit where it is due.
Request for Translation!!
Not every game title has been localized in North America, so there may be some errors in regards of translating certain names, titles, events, histories, stories, etc. This may include anything from alternate names (i.e. Angie = Pillars, Thirteen Workshops = Thirteen Factories) of Japanese versions to spelling or grammatical errors.
In regards to the alternate names, we have provided 'redirect' links and descriptions in the article to include both English and Japanese versions of that name.
Anybody is free to submit a translator request and fix any possible errors present to maintain as a high quality reference to the Legend of Heroes series. If you have any questions, please contact me.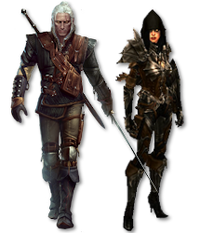 RPG Games
Go to these sites for info or for help with your own wiki!
AdventureQuest • Agarest War • Arcanum: Of Steamworks and Magick Obscura • Baldur's Gate • Dark Souls • Deus Ex • Diablo • Divinity • Dragon Age • Dragon Blaze • Dragon's Dogma • Elder Scrolls • Fable • Fallout • Faster Than Light • Fate/Grand Order • Five Nights at Freddy's World • For Honor • Hyper Light Drifter • Legend of Heroes • Masquerada • Mass Effect • Might & Magic • Shadowrun • Stories: The Path of Destinies • Tom Clancy's The Division • Torment • Ultima • Undertale • The Witcher
Want your community included? See how!

People who train under martial arts tutor Yun Ka-fai and master the 'Eight Leaves One Blade' style of combat are known as Divine Blades.
Many aspects of the Trails universe are numbered in or by sevens, such as the multipurpose organization Class VII.
The Legend of Heroes franchise has appeared on multiple video game platforms, from the PC to the handheld Playstation Vita.
Heimdallr is the capital of Erebonia, located in its southwest-central region.
Home of Valflame Palace and the imperial royalty, along with facilities utilized by the government, it serves as the heart of the Empire.
There are many sites to see here, as the city is divided into 17 districts. It is a heavily populated area, with around 800,000 living nearby. The city also features an extensive railway network, connecting it to numerous locations throughout Erebonia, and all trains which run on this network have the city as a terminal destination.
Have you completed Trails of Cold Steel II?
If you want to affiliate with the Legend of Heroes Wiki, please contact an admin.

Ad blocker interference detected!
Wikia is a free-to-use site that makes money from advertising. We have a modified experience for viewers using ad blockers

Wikia is not accessible if you've made further modifications. Remove the custom ad blocker rule(s) and the page will load as expected.