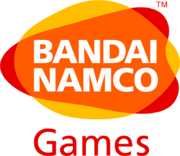 Bandai Namco Games Inc. (株式会社バンダイナムコゲームス, Kabushiki Gaisha Bandai Namuko Gēmusu?) is an video game publishing company based in Japan. It releases games various peripherals such as arcade, mobile and home-played, while also publishing video, music and other entertainment products related to its video game IPs. The company is a merger productbetween thegame development divisions of Bandai and Namco. Originally referred to in the West as Namco Bandai Games, the company was internationally renamed as Bandai Namco Games in January 2014.
Bandai Namco Games is a wholly owned subsidiary of Bandai Namco Holdings (BNHD) that deals with management and sales of video games and its other related entertainment products, while its Bandai Namco Studios subsidiaries are in charge with the development of these products.
External links
Ad blocker interference detected!
Wikia is a free-to-use site that makes money from advertising. We have a modified experience for viewers using ad blockers

Wikia is not accessible if you've made further modifications. Remove the custom ad blocker rule(s) and the page will load as expected.