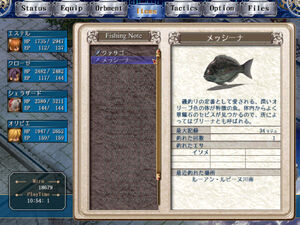 Click the above tabs to see the complete fishing list per game.
The Fish Journal (abbreviated for the Fishing Notebook (釣りノート, Tsuri Not to?)) is one of the notebook catalogues of the Trails in the Sky trilogy.
Fishermen's Oath
Notes/Trivia
Fishing in Trails in the Sky the 3rd is considered a mini-game with no real list.
Ad blocker interference detected!
Wikia is a free-to-use site that makes money from advertising. We have a modified experience for viewers using ad blockers

Wikia is not accessible if you've made further modifications. Remove the custom ad blocker rule(s) and the page will load as expected.