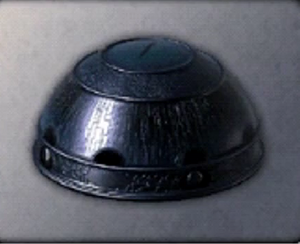 The Black Orbment is a powerful and mysterious artifact found in The Legend of Heroes: Trails in the Sky. While the exterior seems ancient, the orbment appears to be made from modern materials with no seams or maintenance panel to access the interior. There is also no caliber inscribed on its surface. It has the ability to disable other orbments around it.
In Trails in the Sky SC, its true name is revealed to be Gospel (ゴスペル, Gosuperu?), an artificial anti-orbment replicated from the ancients by Ouroboros as part of the Gospel Project. The Gospels served as remote terminals for the Aureole to interact with the "real" world while sealed in another dimension.
Gallery
Ad blocker interference detected!
Wikia is a free-to-use site that makes money from advertising. We have a modified experience for viewers using ad blockers

Wikia is not accessible if you've made further modifications. Remove the custom ad blocker rule(s) and the page will load as expected.