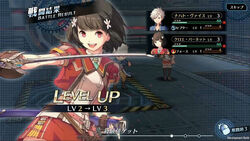 The Battle Result (戦闘結果, Sentou Kekka) is an after-battle display screen in the Kiseki gameplay, showing the gains Experience Points (EXP) and Item Drops. Since the Zero/Ao duology, the Battle Results were upgraded with the Tactical Bonus (タクティカルボーナス, Takutikaru Bonasu), a new sub-system that multiplies EXP by rate, depending on the following battle conditions below.
As a minority, all characters present the end of the battle quotes his/her post-battle catchphrase.
Zero/Ao no Kiseki
Name
Conditions
Rate
First Attack
ファストアタック
Gain the Party Advantage
0.05
Chain Battle
チェインバトル
Make a Chain Battle
0.5
Triple Counter
トリプルカウンター
Counter 3 times
0.1
Triple Canceller
トリプルキャンセラー
Cancel Arts/Crafts 3 times
0.3
Item Lover
アイテムラヴァー
Use Items 3 time
0.1
Seven Rush
セブンラッシュ
Getting ahead of the enemy for 7 straight turns
0.1
No Curia
ノーキュリア
Recover from Status Effects naturally (no items)
0.05
Over Kill
オーバーキル
Destroy the enemy with 5x the damage of its remaining HP
0.1
Around Kill
アラウンドキル
Eliminate over 4 enemies simultaneously
0.2
Speed Kill
スピードキル
Destroy all enemies within 2 moves after the battle starts
0.05
No Damage
ノーダメージ
Win without gaining damage
0.2
No Move
ノームーブ
Win without moving
0.2
Revenger
リベンジャー
Win a battle from overcoming a pinch
0.1
Support Finish
サポートフィニッシュ
Finish the battle with a Support Attack
0.3
Trails of Cold Steel (1+2)
Gallery
Notes/Trivia
Players earn the Dazzling Tactics (

絢爛攻守

Kenran kōshu

) trophy in the PS3/VITA Games for meeting each game's respective conditions.